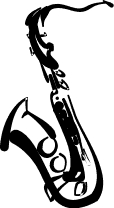 Lessons:


Teaching is very important to me. I love to share the knowledge I have gained over the years from my wonderful teachers and from my study of jazz history. I currently teach flute and saxophone, as well as improvisation.
Here
are some thoughts about some influential teachers in my life.

Flute Lessons:

Instruction in both Classical and Jazz studies. Lessons are based on the methods of the French School and incorporate materials developed by Moyse, Taffanel, Gaubert, and Gilbert. Additional material derived from Trevor Wye and James Galway masterclasses is presented.

Sax Lessons:

Lessons focus on two major topics to develop improvisation abilities:

1). Study of harmony through a guided series of exercises designed to target chord tones and incorporate chromaticism. These exercises are developed using standard chord progressions (e.g. I Got Rhythm, Autumn Leaves, etc.)

2). An in-depth study of solo transcriptions. Methods for transcribing are discussed. A method of learning solos and extracting key ideas is presented. Learn how to incorporate the ideas of jazz masters into your improvisations.

All levels are accepted. Beginning students focus on developing musical fundamentals. Intermediate and advanced students study repertoire with an innovative method of MIDI files designed to learn tunes, solos, and ear-training.

I teach in studio in Sunnyvale, CA. I also offer the opportunity to study via correspondence. I was introduced to this method of instruction by the great Charlie Banacos. We either use email or regular mail. If email, I will send you a PDF file that has some exercises, theory, etc. I will also send a sound file with some explanations and occasionally some demonstrations. I send an additional sound file that has MIDI tracks that you can use to practice with. They also make good ear-training exercises that you can listen to in the car, etc. After you have practiced the material for ~1 week, you send me a soundfile with you playing the exercises, ask any questions, etc. Some people prefer to use regular mail -- in that case, we exchange a cassette tape in the mail.

For more information about lessons, either in person or via correspondence, please contact me using the Contact Information link.