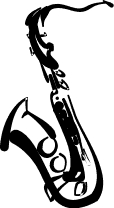 The Website of Jeff Rzepiela
The Scooby-Sax Newsletter contains:
A review of the new material added to scooby-sax.com
A lesson based on new solos added scooby-sax.com
A Q&A section where improvisation questions are answered
A Reviews section discussing educational material, websites, recordings, etc.
Download previous issues:
To subscribe to the Newsletter, enter your email address below. Your email address will never be
disclosed or used by by any other website.