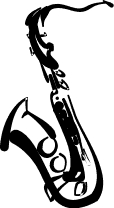 The Website of Jeff Rzepiela
1. Rules and Regulations
The following rules and regulations apply to all visitors or users of this web site. By accessing this web site, user acknowledges acceptance of these terms and conditions. Jeff Rzepiela reserves the right to change these rules and regulations from time to time at his sole discretion. In the case of any violation of these rules and regulations, Jeff Rzepiela reserves the right to seek all remedies available by law and in equity for such violations. These rules and regulations apply to all visits to the Scooby-Sax web site, both now and in the future.

2. ALL CONTENTS ON THIS SITE ARE PROTECTED BY COPYRIGHT. NO PORTION OF THE INFORMATION ON THIS WEB SITE MAY BE REPRODUCED IN ANY FORM, OR BY ANY MEANS, WITHOUT PRIOR WRITTEN PERMISSION FROM JEFF RZEPIELA. ANY MATERIALS POSTED ON THE WEB SITE THAT YOU COPY, PRINT, OR DOWNLOAD ARE FOR YOUR PERSONAL, NON-COMMERCIAL USE ONLY. VISITORS OR USERS ARE NOT PERMITTED TO MODIFY, DISTRIBUTE, PUBLISH, TRANSMIT OR CREATE DERIVATIVE WORKS OF ANY MATERIAL FOUND ON THIS SITE FOR ANY PUBLIC OR COMMERCIAL PURPOSES.

3. Jeff Rzepiela Ownership Information
The information on this web site, along with any materials (including, for example, transcriptions, exercises, arrangements) is the copyrighted work of Jeff Rzepiela and is protected under US and worldwide copyright laws and treaty provisions.

4. Links
The Web site may provide links to other World Wide Web sites or resources. Because Jeff Rzepiela has no control over such sites and resources, you acknowledge and agree that Jeff Rzepiela is not responsible for the availability of such external sites or resources, and does not endorse and is not responsible or liable for any Content, advertising, products, or other materials on or available from such sites or resources. You further acknowledge and agree that Jeff Rzepiela shall not be responsible or liable, directly or indirectly, for any damage or loss caused or alleged to be caused by or in connection with use of or reliance on any such Content, goods or services available on or through any such site or resource.

Copyright © 2012 Jeff Rzepiela All rights reserved.